Could Home Values Suffer the 'Presidential Election Year Effect' in 2016?
You could be forgiven for tuning out media coverage of the 2016 presidential election, an event that is a year away and crowded with so many candidates it's hard to keep track of them all. But as the circus plays out, it's worth pausing to look at historical homebuying trends during presidential election years.
Some analysts say watch out for a potential dip in real estate sales and prices next year.
Sure, the last two presidential elections, in 2008 and 2012, certainly came in the midst of turbulent economic times. But going back even further, some argue that presidential election years are statistically slow years for real estate markets.
So, what's in store for 2016?
Historical clues
In 2012, Movoto.com staff crunched decades' worth of data they collected from the California Association of Realtors (CAR), and concluded that those election years negatively impact home prices.
Movoto's infographic (partially included below) offers a great visual for understanding the collected data. Movoto editor David Cross explains their theory: "Presidential election years are stressful for the American people and in times of uncertainty people are less likely to take chances – this includes making large purchases such as a new house."
Specifically, Cross said the research showed that home prices rose by 6 percent during the year before an election, they went up by only 4.5 percent in the election year, and then prices rose 5.3 percent after the election year.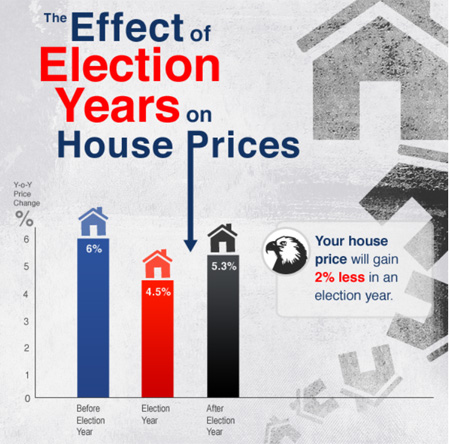 The National Association of Realtors (NAR) claims that more research is needed, and has yet to declare a correlation between election years and home prices. Still, it's hard to see Cross's numbers and dismiss a potential election year effect.
What is other recent data showing?
Zillow's data shows that home values in the U.S. rose 3.7 percent over the twelve months ending September 30, 2015, and predicts that values will rise by a slimmer 2.4 percent in the twelve month period beginning October 1. Could part of that projected slowdown be the so-called 'election effect'?
Data aggregator CoreLogic also noted a hike in year-over-year home prices. It found that prices, including distressed sales, went up by 6.9 percent in the twelve months ending August 31, 2015. But a further look at CoreLogic data over the years surrounding the 2012 presidential election don't neatly bear out Movoto's theory.
Certainly, U.S. real estate markets are in better shape now than they have been since the housing crisis in 2008. Although full recovery in the housing market may not be complete, home sales in August were the best they've been since early in 2008, according to Money magazine.
Looking west once again, the CAR has predicted that existing California home prices will go up by 3.2 percent in 2016, compared to the 9.8 percent rise in 2014 and the anticipated rise of 6.5 percent in 2015. The Association described the hike as the smallest price gain since 2011. Makes you wonder about that election theory.
Should you buy or sell investment property in 2016?
The CAR's crystal ball is specific to California, of course. But their economists factored in many national and global variables, in addition to the election. China's economy, capricious recent stock movements, terrorist activity and geopolitical tensions in addition to local events such as the ongoing California drought, all factored into the CAR housing forecast.
Regardless of whether the election is a contributor, most analysts project slower real estate growth in 2016. With slower sales comes fresh buying oppoortunities to pick up bargains on real estate. Now is a good time to consider your investing strategy for the coming year, and to do some real estate investment homework and explore new housing markets.
You also may want to reevaluate your plans to sell in 2016. Keep an eye on market indicators; existing home sales reports from the NAR are a great start. Economist magazine offers an excellent interactive tool for understanding global home prices. The House Price Index from the Federal Housing Finance Agency is loaded with data, and keep average listing times in mind as you make plans to sell.
In slowing markets, don't assume that offers truly reflect what your property is worth, even if buying activity is down. Money recommends getting a Comparative Market Analysis and, if you list your property for sale by owner, paying for an updated appraisal. It may simply take longer to sell the same property.
As for election year housing slumps, who knows? Maybe Californians are just a quirky bunch, and their behavior has no relation to the rest of Americans' buying behavior. Or maybe there's something to the collective insecurity during presidential election years, and sellers should rethink their timing.
Related Reading:
Do Artists or Starbucks Better Predict the Next Hot Neighborhood?
Counting on Social Security? Fudged Numbers Are More Reason to Diversify Retirement Income
The Life Cycle of a Boomtown: From Jobs Boom to Vices to Housing Spikes to Normalcy