Ever Consider Leasing Furnished Units? Pros, Cons & Quirks of Furnished Rental Units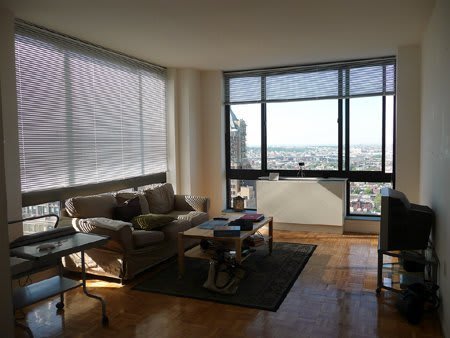 Have you ever thought about furnishing your rental units and leasing them at higher rents? There are some unexpected pros and cons to furnishing your rental property, so let's dig deeper into the world of furnished rental properties.
First, what's included in a furnished unit? At a bare minimum, "furnished" means:
Couch(es), coffee table and/or chairs in the living room
Bed, dresser and nightstand in the bedrooms
A dining room table and chairs
A shower curtain in the bathroom
Many furnished rental units go well beyond this minimum however, and can include:
Televisions
Entertainment centers
End tables
Bookshelves
Lamps
Desks and chairs for office work
Bath mats
Trash cans
Microwave
Toaster
Silverware, dishes, glasses, pots and pans
Grill (OK, the grill is probably gratuitous, but who doesn't like a grill?)
All of the above can cost quite a bit of money, representing a potentially huge up-front investment. Obviously this can slimmed by buying second-hand, but furnishing an apartment or house is still no small feat. Is it worth it?
Higher Rents & Investment Recovery
Do furnished units lease for significantly higher rents in your neighborhood? How much more? After how long would you recover your up-front investment? If you could recover your initial investment in less than a year (a typical lease term), then you should consider furnishing your unit. Imagine a scenario where you could furnish the unit for $750, and charge an extra $100/month for the unit; the success would hinge on your turnover rate, and the cost of repairing/replacing furniture during turnovers.
Risk of Damage
Renters will damage your furniture, the question is how quickly and how badly they will damage it. Pets are an added risk, and should be avoided in furnished units (damage aside, pets' dander will seep into furniture, creating an allergen risk for future occupants). But there is good news to accompany the extra risk of damage…
Higher Security Deposit
You can charge a higher security deposit, given that there is more property that the tenant can damage. Consider collecting at least two months' rent for furnished rental units. Be sure to use a Furnished Rental Unit Addendum to track furniture condition at move-in and move-out.
Permanent Furniture Means Less Damage to Floors & Walls
Have hardwood floors in your unit? A furnished unit means you can put felt pads on the bottoms of all the furniture, to prevent the floors being scratched to shreds. Likewise the walls won't get banged and scraped as careless movers haul new beds, dressers, tables and couches in and out of the property at each turnover.
Furnished Units Appeal to Specific Renters
Most people own furniture already. The people who don't are typically students, recent graduates, new families or short-term renters (e.g. professionals temporarily in town for a finite project). Does your neighborhood interest these types of renters? Are you interested in these renters? The high turnover of short-term renters may not appeal to you, or perhaps you don't like the extra damage that young tenants can inflict on properties and furniture, but consider carefully the type of renter you would attract with a furnished unit.
Storage Costs
You will likely need to have a storage unit, for whatever furniture the tenant doesn't want. For example, the tenant has their own bed and mattress – you will need to store the bed and mattress already in the unit. The costs don't end at the storage fees, either: someone will have to move the bed and mattress in and out of the unit on either end of the tenancy.
Tax Benefits
The cost of furnishings may be tax deductible, and furniture may be depreciated over the course of five years as depreciable assets. Talk to an accountant before making any assumptions on your tax return.
Parting Thoughts
In both your up-front costs and in repairing/replacing furniture during turnovers, always buy second-hand unless the unit is extremely upscale. Buy tasteful and gently-used furniture, that does not show much wear. Coordinate colors – this can be as easy as buying a sofa and loveseat that are both black faux-leather, with a black entertainment center. Remember that every penny you spend pushes your investment recovery time further back, so spend with care.
There are neighborhoods where furnished units can bring in significantly higher rents, particularly those that appeal to younger renters. Consider the costs and potential return on investment, and if you proceed be prepared for having to repair and replace some furniture in between tenancies, in addition to the usual painting, carpet and other repair costs.
Related Reading:
Secrets of Investing in College Towns & Leasing to Students
Where Young Adults Are Migrating… and Why It Matters to Real Estate Investors
The Rise of Solo Households – And the Implications for Real Estate Investors