How to Legally Lease Using Airbnb in NY, When 72% of Rentals Are Illegal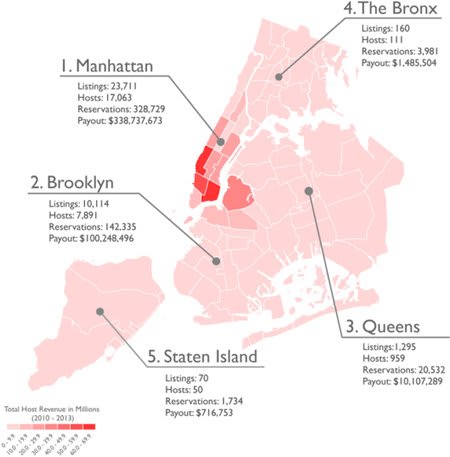 Leasing out your home on Airbnb may seem like a great way to bring in some extra cash while you're on your next vacation, but if your property is in New York you could quickly run into trouble. According to New York Attorney General Eric Schneiderman, 72 percent of Airbnb rentals in New York are actually illegal, either by violating zoning laws or failing to pay hotel and sales taxes to the city and state when collecting payment for the rentals.
New York Zoning Laws Are the Heart of the Matter
Among the (many) zoning laws in New York City is an ordnance that it is not legal to rent to anyone for less than a period of 30 days at a time, unless the owner is also present. And while laws in New York generally protect renters' rights to sublease their apartments, tenants are not exempt from the 30 day rule, and may have additional subletting restrictions in place in their lease agreement as well. Each landlord or management company that rents out apartments in NY has its own rules and regulations that often go beyond basic city zoning codes.
However, there are legal Airbnb rentals in New York, for prospective vacationers looking to rent a space for a few days in the Big Apple. It's not necessary to become an authority on every zoning law, or ask the lister from for their lease to verify that subletting or guests are allowed. Leases that don't allow for any overnight guests would be very difficult to enforce, and unlikely to be agreed to by a tenant, so vacationers shouldn't worry about breaking a law simply by staying in someone's home for a few days.
Taxes, Taxes, Taxes and… More Taxes
Zoning infractions by individual homeowners and tenants seem like a pretty, well, petty thing for the Attorney General of New York to grow so obsessed with, no? But there have been hundreds of millions of dollars in revenue collected by people who leased out their properties with Airbnb over the last few years, and Airbnb rental listers are not paying the state and city hotel taxes and fees, or sales taxes, on collected short-term rents. For anyone doubting that New York loves its taxes, consider that hotels must collect 4% state sales tax, 4.5% city sales tax, 5.875% city hotel tax (plus $2.00/transaction), and $1.50/night state hotel fee, on top of the regular room rate. Is it any wonder that Airbnb is often much more affordable for renters than traditional hotels?
Still, of all the complaints that New York has about Airbnb, this seems to be the easiest to solve. Airbnb has already publicly stated that it is willing to start collecting taxes from property listers in New York, as it does already in San Francisco.
Angry Hotels, Upset Neighbors
Many hotels in the NY area want to see Airbnb banned because the company is taking a portion of their market share and revenue away from them. Not surprisingly, the overwhelming majority of Airbnb activity is in the upscale hotel districts in Manhattan and Brooklyn, where visitors would otherwise be paying primo hotel rates (and taxes). They aren't the only ones up in arms either; a number of residents throughout the city are complaining about noise and other concerns that come from neighbors leasing out their properties to strangers. With people coming and going so frequently, there is a potential for more noise as well as more mess and trash. Residents also don't like the extra traffic in strangers in their buildings, and have increasingly been reporting neighbors to authorities.
How to Lease Your Property Legally
If you plan to lease with Airbnb, beware that the Office of the Attorney General is keeping a watchful eye. You have to be present during the guests'; you can't rent out your whole home through Airbnb while you're on vacation elsewhere. You can rent out your extra rooms though, as long as you're still sleeping at the property while the guests are there. Coloring within the lines here will protect you from liability, and can also help you keep the peace with your neighbors.
If leasing for less than 30 days, you have to pay proper taxes on the money you collect. There are forms that can be filled out to rent legally, and those will help ensure you're collecting the right fees and taxes. Many people skip this step, but you'll technically be operating an illegal rental if you aren't collecting and paying taxes on the travelers who come through your property.
Finding a Legal Airbnb Rental
If you want to rent through Airbnb during your vacation, keep in mind that many NY listings will not be legal. Look for one that is posted by the legal owner of the property, and where the owner is going to be present during the time you're staying there. Don't be afraid to ask questions, especially if you're not sure about something in the listing. The person who has the listing should collect taxes on the amount you're charged for the rental, as well. If they don't collect taxes they aren't operating a legal vacation rental, and if this bothers you, you'd be better off looking for a different place to stay during your travels.
Related Reading:
Airbnb Nightmare: Short-Term Vacationer Refuses to Leave, Months-Long Eviction Process Required
Landlords and Regulators Crack Down on Subleasing Through Airbnb & Others
Considering Converting a Residence into a Vacation Rental?