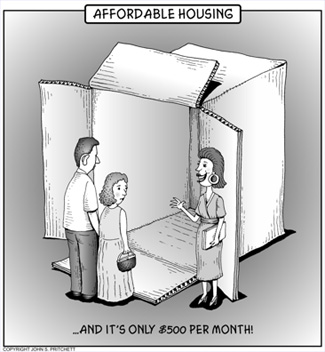 In how many states across the U.S. can a minimum wage earner comfortably afford a two-bedroom apartment?
While you're pondering the answer, here's a hint: according to a 2013 study done by the National Low Income Housing Coalition (NLIHC) entitled "Out of Reach: 2013", the average renter earns $14.32 per hour ($7.05 more than minimum wage) and cannot comfortably afford rental housing in the majority of states in America.
The NLIHC's "Out of Reach" report is an annual analysis of housing affordability in the US. Each year average hourly wages are examined across the US along with average rents to determine the "housing wage". The housing wage is defined as the gap between wages and rents across the country, and is the estimate of the full-time hourly wage that a household must earn to afford an apartment meeting certain standards, at the HUD-estimated Fair Market Rent (FMR), while spending no more than 30% of income on housing costs. The 'housing wage' for 2013 is $18.79. A difference of $4.47 above what the average renter makes; and slightly more than 2 ½ times what the minimum wage earner makes.
Think you have the answer now? The answer is zero. There are no states in the United States where a single person earning minimum wage can afford the average two-bedroom apartment on their own.
Furthermore, remember the numbers from our definition of 'housing wage'? The average renter makes $14.32, that's $4 less than what is required to comfortably afford the average two-bedroom apartment in the US. According to the Bureau of Labor Statistics, an estimated 3.6 million people in the US earn at or below the Federal minimum wage amount of $7.25. Additionally, several million more (exact statistics were not readily available) earn less than the housing wage of $18.79. That means there are more than 3.6 million people currently unable to rent a home of their own in the US.
The NLIHC estimates an additional 4.5 million units are needed to meet the current demand for affordable housing. "That's because affordable housing is increasingly difficult to find", one NLIHC rep says.
In the past, affordable housing and public assistance were synonymous. Today one might be surprised to learn who is actually in need of affordable housing. The 2012 Bureau of Labor Statistics report the following are some of the occupations earning less than the 2013 'housing wage': police, fire and ambulance dispatchers; hospital record clerks; bank tellers; supermarket cashiers; travel agents; floral designers; school bus drivers; substitute teachers and pre-school teachers (excluding Special Education); small engine mechanics, dry cleaner workers, electronic equipment installers and repairers; home appliance repairers; and some religious workers. All of these occupations represent respectable, hard-working citizens and not the lazy, entitled individuals often associated with those in need of affordable housing. Of course, disabled veterans and the elderly are still included among the numbers of Americans in need of affordable housing.
What does this mean for real estate investors? Where there is an unmet market demand, there is always opportunity.
Consider Low Income Housing Tax Credits. Based on Section 42 of the Internal Revenue Code, LIHTCs were enacted by Congress in 1986 to provide the private market with an incentive to invest in affordable rental housing. Federal housing tax credits are awarded to developers of qualified projects. Developers then sell these credits to investors to raise capital for their projects, which reduces the debt that the developer would otherwise incur. Because the debt is lower, a tax credit property can in turn offer lower, more affordable rents. Tax credits are subtracted directly from one's tax liability, making them far more attractive than deductions. Credits reduce tax liability dollar-for-dollar: a $1,000 credit in a 15% tax bracket reduces tax liability by $1,000.
Provided the property maintains compliance with the program requirements, investors receive a dollar-for-dollar credit against their Federal tax liability each year over a period of 10 years. The amount of the annual credit is based on the amount invested in the affordable housing.
A December 2012 report from the accounting firm CohnReznick, LLP, found that real estate investors who buy federal low-income housing tax credits have fared well with their investments in the recovery from the financial crisis. Affordable housing properties maintained high occupancies and strong operating incomes in most housing markets.
While some LIHTC opportunities for the individual investor are no longer considered profitable because of changes in the tax codes, there are still many opportunities for investors to partner on these projects and still turn a profit. Known as syndications where private investors looking for high return on investments are connected to developers looking for cash for their LIHTCs.
Investors who are skeptical about the profitability of LIHTCs should look to Google and Verizon, two of the many corporations recently entering the affordable housing arena.
Other advantages of lower-end rental investments include lower acquisition costs and easier diversification: an investor with $50,000 in cash may be able to buy five different low-end rental properties, instead of one or two higher-end properties.
But lower-end rental units do come with their own risks. Lower-end tenants tend to be less reliable, with lower average credit scores, more frequent moves and housing turnover, and less stable incomes. They also tend to pack more occupants into the same size rental unit, which means more wear and tear on the property and a higher likelihood of property damage. More damage and turnovers means more repairs, vacancies and eviction filings, all of which cost money and time.
Another potentially profitable affordable housing solution is a new trend in "apodments", which will be discussed at length in an upcoming article.