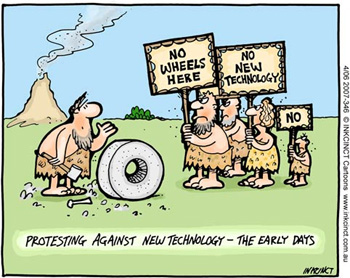 Mobile technology is improving quickly, becoming more intuitive, user-friendly and relied-upon every day. For the real estate industry, it is changing the way landlords and tenants correspond and process transactions. Whether commercial or residential, a question on many property managers' minds is "How will evolving mobile technology transform the industry?"
Landlords can run a tenant credit report and criminal background check instantly from their phone or tablet for immediate decision-making. New tenants can instantly transfer funds directly to a landlord while signing a lease agreement, whether through electronic transfer or by swiping a credit or debit card on the landlord's smartphone plug-in. With documents saved to an online service like ezLandlordForms and accessible to view from anywhere, these stored legal documents can serve as a quick reference to avoid potential disputes. Property managers can even use Pinnum to share their location in real time, as a safety feature.
In a word, mobile technology helps landlords and property managers to oil their business machine – to streamline it by making it faster, easier and more flexible.
This electronic instant gratification can also serve tenants' interests, by quickening the process of screening, approval and the handing over of their new house keys, helping them settle in as soon as possible. Going digital for rent payments is also a convenient way to create a "paper" trail, to log proof of payment history. And many tenants are willing to pay the processing fee in exchange for the convenience of paying their rent by credit or debit card.
But for all the convenience that mobile technology can bring landlords and property managers, it poses its own set of concerns (like most new technologies). Not everyone has credit/debit cards or access to electronic money transfers (or checking accounts, for that matter), which may lead to marginalization for the elderly, the poor, immigrants and the less technologically-savvy. Not all tenants have a computer, much less a smartphone, to pay and interact with the landlord electronically. An "electronic transaction only" policy on the part of the property manager or landlord would restrict the number of people that they can rent to, excluding many (potentially good) applicants.
Further, the flipside of that easy electronic paper trail is an easily-accessed accounting record that is visible to anyone who wants to look. For example the IRS, or perhaps an ambulance-chasing attorney looking to collect a judgment, would not need to work hard to find the accounting records of a landlord who accepted electronic rent payments.
Technology is a rapidly evolving beast. Using it to create a faster, more fluid property management system is good business, provided it is done thoughtfully. Join the process of constructively pushing the technological boundaries by experimenting with new technologies, products and services, and send service providers (like us) your feedback and ideas!