The Joint Center for Housing Studies at Harvard University released its annual State of the Nation's Housing report this morning, and one key finding was that the millennial generation is critical to the ongoing housing recovery, but has largely remained on the sidelines over the last few years.
Millennials (or Generation Y), defined here as Americans between the ages of 18-34, make up an impressive 23.5% of the population, roughly 73.7 million Americans.
Millennials' reluctance to buy their first home (or worse, to even rent their own home) poses a serious threat to the ongoing real estate market recovery nationwide. The economics of why the housing market needs first-time homebuyers are relatively simple: first-time buyers add only to the demand side of the market, not to the supply side. On the contrary, Jack and Jill Homeowner who are looking to upgrade their home will be net-neutral transaction, by adding their current home to the supply side by listing it for sale, and adding to demand by buying a new home. (Actually, upgrading a home is not technically net-neutral, as there are still transaction services like mortgage lenders, real estate agents and title companies that pay many Americans' incomes, and upsizing homes creates added economic impact in the form of buying new furniture, etc, but that is outside the scope of this article).
As baby boomers age and downsize their homes, many selling their homes and becoming renters, it will become increasingly important that millennials start buying into the real estate market – literally.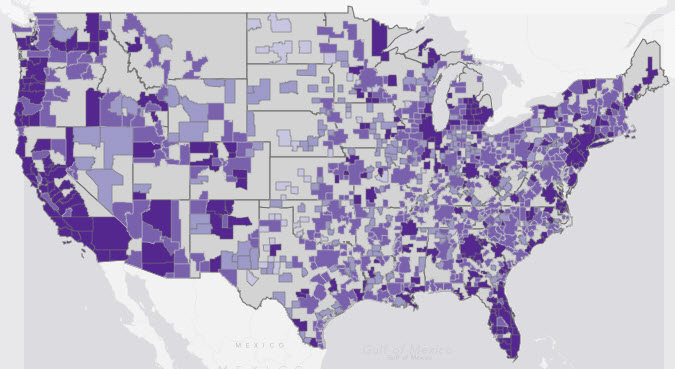 Still, can anyone blame today's young adults for being wary of buying real estate? High unemployment rates plague millennials, as the economy's recovery continues to advance sluggishly and employers can afford to be choosy and hire only applicants with impressive work experience. Further, many young adults watched their parents and older siblings struggle during the housing crash in the late '00s, and with over a million U.S. homes still underwater on their mortgages, the catastrophe of falling underwater on real estate is a fresh and vivid memory for many millennials. Many have yet to move out of mom and dad's basement, much less even consider buying a home.
For a stark reminder of why so many millennials have yet to move out of the nest, click through to view Harvard's interactive version of the map above, which shows renters' housing burden (average rents as a percentage of average income) nationwide.
If you have a spare ninety seconds, listen to NPR's quick overview of the Harvard report as it concerns millennials… and everyone else who owns real estate in America.