(Illustration by David Saracino / New York Observer.)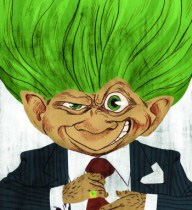 Ever heard of patent trolling? Patent trolling has traditionally been a parasitical practice in the technology sector, but has now found its way into the wonderful world of real estate. Patent trolling is the duplicitous practice of seeking out inactive or soon-to-be-expired patents solely to profit from licensing the product or service to others, or just suing legitimate companies who they claim are infringing on their obscure patent. The patent trolls are not the inventors of the product or service, nor do they have any intent of ever using the product or service themselves. Most patent trolls are shell companies who seldom reveal their true identity. Patent trolling is, however, perfectly legal.
In recent years, real estate companies have fallen prey to patent troll lawsuits. In a widely publicized case, the National Association of Realtors (NAR) paid a cool $7.5 million to Alexandria, Va.-based CIVIX-DDI LLC, a notorious patent troll. Reportedly, the NAR raised the money to fend off a lawsuit that CIVIX threatened against a number of multiple listing services (MLS's) across the U.S., that used location-based technology which CIVIX claimed to have patented. The threat came shortly after CIVIX settled a previous lawsuit with two of the largest MLS's in the country, Chicago-based Midwest Real Estate Data LLC (MRED) and Maryland-based Metropolitan Regional Information Systems (MRIS).
CIVIX-DDI has also successfully sued LoopNet, Trulia and a host of other real estate related companies as well as Microsoft for various patent infringements.
In early 2014 another troll, Property Disclosure Technologies, filed a similar case against thirteen of the most popular real estate companies in the US. Keller Williams Realty Inc, RE/Max LLC, Weichert Realtors, Zillow Inc, Redfin Corp, BRER Affiliates LLC (part owner of the Prudential Real Estate franchise), JB Goodwin Realtors, Inc, David Winans GMAC TEXASMLS.com LLC, and Realogy subsidiaries Century 21 Real Estate LLC, Coldwell Banker Real Estate LLC, Better Homes and Gardens Real Estate LLC, ERA Franchise Systems LLC and Sotheby's International Realty Affiliates LLC. The lawsuit was filed in January.
Property Disclosure Technologies, LLC (PDC), asserts that the named companies have infringed upon two separate patents; both titled "Real Estate Disclosure Reporting Method", issued in 2009 and 2011.
It should be noted that both CIVIX-DDI LLC, and Property Disclosure Technologies consider themselves Non-Practicing Entities (NPE's), the more formal term for companies who own patents but only license them out to others.
For years, NPE's made billions targeting small businesses by sending them demand letters to pay or quit using the product or service to which these entities had claim through their (often vague) patents. These target companies were most often without the knowledge and means to fight back, and therefore paid the licensing fees to continue business as usual. The fees reportedly range from a couple hundred to a few thousand dollars. This quickly became a lucrative practice which has now evolved from targeting computer software companies to industries including hotels, coffee houses, and now real estate. In recent years the practice has spread to include targeting larger corporations such as Microsoft, Google and others.
Congress passed legislation in 2011 and then more legislation was introduced again in 2013 targeting the behaviors of patent trolls after receiving a number of complaints and letters from larger corporations who teamed up in an attempt to obliterate, or at the very least, control the predatory practices of these companies.
Official Troll Genus Courtesy of Inc.com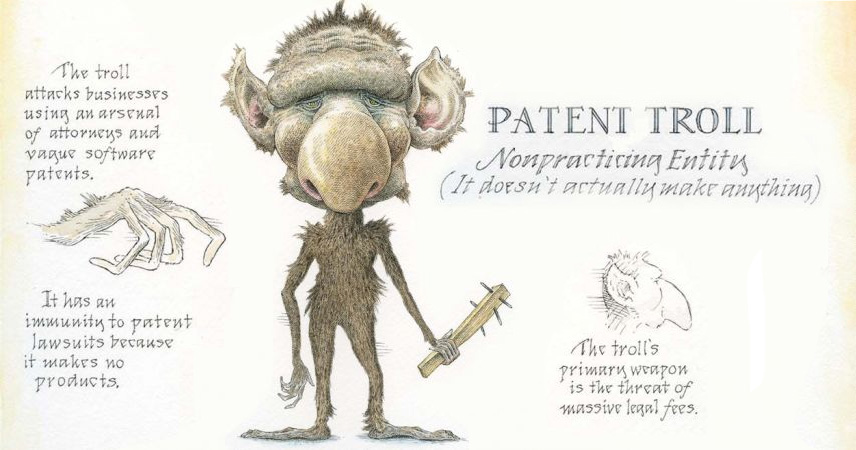 A recent Supreme Court decision was viewed by many as a first step to leveling the playing field for targets of patent trolls. The Supreme Court refused to hear a case brought by Soverain Software LLC against Newegg.com for an alleged infringement of a patented ecommerce technology (online shopping carts). Soverain Software LLC's president, Katherine Wolanyk, allegedly stated, "We're obviously disappointed that the court denied our petition. It's a really tough time to be a patent owner."
Meanwhile, Newegg's chief legal officer, Lee Cheng, had this to say: "The witch is dead, hurray. We are very, very pleased that the Supreme Court has recognized… these patents should never have been granted in the first place. What we have showed in the Soverain case is that fighting back works." Back in 2013, Cheng allegedly stated, "We basically took a look at this situation and said this is bullshit. We saw that if we paid off this patent holder, we'd have to pay off every patent holder this same amount." After the trial, Cheng concluded, "This is the first case we took all the way to trial. And now, nobody has to pay Soverain jack squat for these patents."
Small businesses reportedly spent approximately $11 billion defending patent infringement lawsuits in 2011; an increase of 32% above prior years' numbers. Similarly, a PriceWaterhouseCooper report in 2013 revealed that the total median awards to trolls are now nearly twice as high as those to legitimate patent holders.
With that kind of money at stake, there's little wonder how real estate companies found themselves caught in the patent troll trap.