There's good news and bad news for residential real estate investors in 2014. The good news is that nationwide home prices are steadily on the rise and since last year prices have risen in some areas up to 22 percent. For example, homes in Riverside, California have seen a roughly 22 percent increase in price above last year's prices. Similarly, Atlanta sellers are seeing great results too; home prices in Atlanta have increased on average about 17 percent. This is, of course, exceptional news if you already own real estate in a neighborhood that is rapidly appreciating, but what about aspiring investors, looking for a bargain?
While nationwide rents are on the rise as well, in some cases they have not kept up with home prices or otherwise make it difficult for investors to meet or exceed their bottom line.
Still, according to a recent report from RealtyTrac outlining the best and worst markets for rental returns in 2014, there is no need for investors to worry. Rents in many areas have not kept pace with sales prices, but there are plenty of markets where home prices have remained low enough to make the difference between a good investment and a not so good investment. To determine rental returns, the fair market rent for a 3-bedroom home was multiplied by 12 months and then divided by the median sales price for a particular county. Counties were chosen based on a minimum population of 50,000, and a total of 1586 counties were included based on the criteria.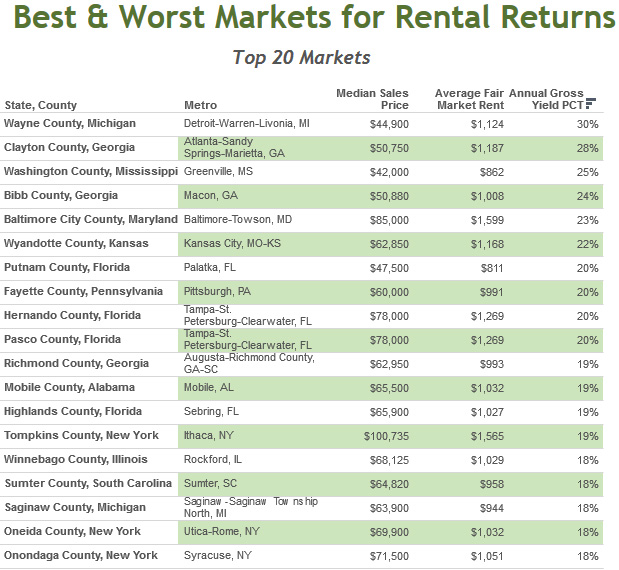 The RealtyTrac report cites Wayne County, MI (Detroit) as the highest market for rental ROI currently. Detroit's median price for homes continues to hover below $45,000 while the average rents have risen to $1124 per month, providing investors with a 30% annual gross yield. National median home sales are reported somewhere around $189,000 leaving little wonder why Detroit has become the mecca for rental properties for investors. But if Detroit and its structural economic problems hold no interest for you, fear not, as other markets with stronger fundamentals offer plenty of opportunity. For example, Wyandotte County Kansas which encompasses Kansas City, MO-KS has home sales reported around $62,850 while the average fair market rent is around $1,168 per month. Similarly, at the somewhat higher home price of $85,000, Baltimore landlords can command as much as $1599 for rent in that area. The high rents and cheaper home prices make these areas top investor choices for maximum ROI.
Of course, when considering the data in the report, one has to also consider other factors such as days on market and vacancy rates along with the numbers. Nevertheless, plenty of opportunity still exists for investors to strike while the iron is hot.
Here is a Top 20 list of the counties found to be most lucrative for rental property investment.
As any experienced real estate investor will tell you however, statistical analysis is great for narrowing down possible markets for investing, but it is no substitute for seeing potential investment properties with your own eyes, walking the neighborhood streets and talking face-to-face with neighbors about the area.
How are rental prices in your home county or where you own investment properties? Would you consider investing in some other state on the list if for better profit margins?